Caudalie: extracts of vine and grape. The vineyard is a treasure trove of inexhaustible riches and our first source of inspiration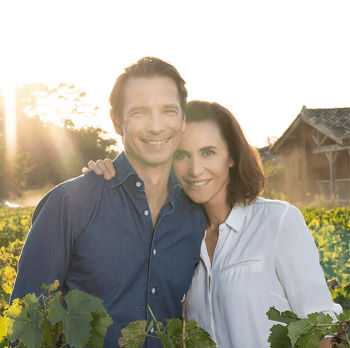 Nature is rich in active ingredients with beneficial properties for our skin. At Caudalie, we prefer active ingredients of natural origin that respect the environment and the skin.
The art of the vine
It all started in Bordeaux, in the heart of the vineyards of Château Smith Haut Lafitte, owned by Mathilde's family. Caudalie is above all a beautiful story of love, earth, passion, encounters and audacity!
The encounter
During the harvest at Château Smith Haut Lafitte, we met Prof. Joseph Vercauteren, head of the laboratory at the Faculty of Pharmacy in Bordeaux. On that occasion, he told us that grape seeds contain the strongest antioxidants in the vegetable kingdom. Our collaboration with him continues to this day.
Polyphenols
The skin is exposed to aggression every day: pollution, stress, smoking, unbalanced diet....
These aggressions generate free radicals, responsible for 80% of the signs of skin ageing.
The polyphenols used in our treatments for over 20 years protect the skin from these aggressions like a real antioxidant shield.
Proven effectiveness
Thanks to the research of Prof. Vercauteren, in 1995 Caudalie was the first brand to offer in cosmetics the stabilised polyphenols of grape seeds, which are among the most powerful antioxidants in the plant world.

Firming lifting body balm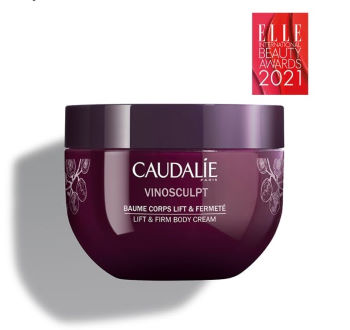 Enriched with antioxidant grape seed polyphenols and firming iris extract, the Lifting Firming Body Balm acts simultaneously on the 4 critical areas of the body (arms, breasts, abdomen and buttocks) for firmer skin from the first month of use*. The skin is relaxed, toned and visibly firmed. Organic shea butter preserves the skin's moisture, an essential element for elastin elasticity.
The soft texture facilitates massage and leaves the skin soft without feeling greasy. On application, a light fragrance with delicate notes of orange blossom is released.
Vinosculpt Lifting Firming Balm was voted best firming product at the ELLE International Beauty Awards 2021. It convinced a jury of experts: the editors-in-chief of the 45 editions of ELLE worldwide. Discover it now!
Dermatologically tested. Suitable for sensitive skin and pregnant women.
And like all Caudalie products, free of parabens, phenoxyethanol, phthalates, mineral oils and ingredients of animal origin.
Vinoperfect Illuminating Anti-Darkening Serum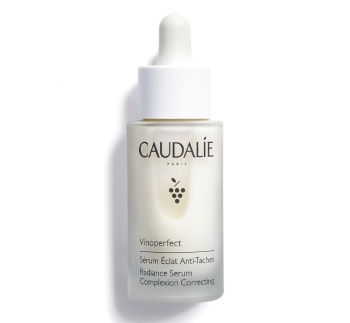 Caudalie's cult product, Vinoperfect Illuminating Anti-Spots Serum, has already won over millions of women with its exceptional anti-spots action.
In 2021, it is reinvented, more effective, cleaner and more natural. This serum corrects the appearance of existing imperfections and evens out the complexion to make it more radiant. It acts on all types of imperfections (sun, acne, age, pregnancy) and on all skin types, even the most sensitive.
Its fresh and delicate fragrance combines the green notes of cedar blossom, orange leaf, melon and fresh mint.
Caudalie is committed to:
- 100% recyclable packaging made of recycled glass and plastic to achieve zero waste.
È possibile acquistare i prodotti Caudalie presso la Farmacia Paola di Vada nel comune di Rosignano Marittimo (LI). La Farmacia Paola di Vada è distributore autorizzato di Caudalie Paris a Rosignano.